Miami
city in the state of Florida, USA
Miami known as "Magic City" is the most important city in South Florida. Part of the South Florida is 32 km from Fort Lauderdale, 170 km from Naples (Florida) and 251 km from Key West.
Understand
The Metropolitan Region of Miami has an estimated population (2007) of about 5.4 million inhabitants, making this the 7th Most Populous Metropolitan Area of the United States. A U.N. 2007 estimate, labeled Miami's metropolitan area the fourth largest urban area in the United States after New York, Los Angeles and Chicago. Due to the proximity of the Everglades National Park (Pantanal) area to the west and the Atlantic Ocean to the east, the Miami Metropolitan Area is 110 Miles (180km) from North to South, but only 20 Miles (32km) from East to West.
History
Flagler Railroad caused a wave of expansion in areas like Miami Beach, Homestead and Cutler. Shortly after the railroad was built, the Overseas Highway was created. This highway connects the Florida Keys Archipelago to the main island. Growth and progress in Miami continued during the First World War and also in the mid-20s (1920-1929).
A devastating hurricane in 1926 slowed Miami's growth and temporarily put the city on alert, also Miami Beach in recession. It was the support of the "New Trato" (of the English New Deal) implemented by President Franklin Delano Roosevelt that helped rebuild the city. Roosevelt almost lost his life when Giuseppe Zangara tried to murder him on his visit to Miami to thank him for his support from the New Treaty.
When a Nazi submarine sank a US Tanker off the coast of Florida, most of South Florida was converted into military barracks for the rest of World War II. The Miami Army's legacy in World War II was a school specialized in anti-submarine combat. After World War II, many soldiers decided to stay in Miami and become permanent residents.
Climate
| | |
| --- | --- |
| | See the state of time in Miami in the next few days: msn Meteorology. |
Because of the proximity of the Equator line to other parts of the United States, the climate in Miami is often, but not always, hot. Even though in the winter the temperature is around 15°C and 21°C (60°-70° Fahrenheit), the temperature can fall to 10°C during the day (50°F) and to 4°C in the evening (40°F). The temperature in the summer may exceed 36.6°C (90°F), but this is very rare. Normally, the summer takes place at around 26°C (80°F). From June to November, rainfall and thunder storms are expected and can occur.
Language
Miami has the largest Latin American population outside Latin America, with approximately 65% of its population being native to Latin America or descendants of Latin Americans. Spanish is the language often spoken in everyday life in various places, even though English is the preferred language, mainly in trade and government negotiations. In a way, it's not uncommon to find non-English-speaking residents, in any case they're centralized typically in shops and restaurants in residential communities and are not common in large tourist areas or downtown. Even if you find someone who doesn't speak English, you can easily find someone else to help with translation if necessary, given that most of the population is bilingual. In some neighborhoods like Little Havana and Hieniale, most people will go to someone first speaking in Spanish and then in English. Span-glish, a mixture of English and Spanish, is often spoken (but to a lesser extent than in South-West America) among bilingual inhabitants, alternating between English and Spanish during sentences and sometimes replacing a common English word with its Spanish equivalent.
The Haitian Crioulo (Haitian Creole) is another language that can be heard first in the northern Miami region. It's not unusual for someone to hear a conversation in Crioulo when using public transport or sitting at a restaurant. Many signs and public ads are in English, Spanish and Crioulo because of the great diversity of the immigrant population in Miami. Unlike Spanish, the Haitian Crioulo is usually centralized in Haitian districts in northern Miami. Most Haitians are more suited to English than their Hispanic neighbors. Portuguese and French are other languages that can be found in Miami. These languages tend to be spoken mainly in tourist areas. Most people who speak these languages are also well adapted to English.
The easiest way to get an answer in English is to use the "Approach Rule," where most people will respond in the language they have been asked, unless they are not able to speak this language. This rule can be used by anyone, even if their first language is Spanish, English or any other language.
Arrive
By plane
Miami International Airport - MIA
Miami International Airport is located west of the city in a non-incorporated suburban area. It is one of the main commercial flight operations centers between North America and Latin America and one of the largest airports in the world. As a result, Spanish can be as well understood as English. International traffic makes this airport a large and congested local. Ensure extra time when you are traveling through MIA, especially if your flight is international, because you will lose a good amount of time just to check your baggage.
The predominant carrier in MIA is American Airlines, which has direct flights to most of the major cities of the Americas and also several European cities. European, Asian, Latin American and Caribbean companies are also represented in the MIA. The airport has no direct service with Africa and Oceania. The recent construction of two new terminals at the MIA helped the airport in terms of passenger capacity and also in efficiency in customs and in the area of luggage collection.
The airport has several restaurants ranging from local restaurants such as La Carreta to large national networks such as Dunkin' Donuts, Burguer King and Starbucks. Watch out for those restaurants serving beer, wine and/or cocktails. If you drink too much, the companies can refuse to board the plane. The airport also has several retail shops, including several shops with magazines and books. Includes some retail stores like Brookstone, K-B Toys and Ron Jon Surf Shop. There is also a Hotel connected to the airport.
Money can be exchanged for US dollars at the airport. Wireless Internet is also available in MIA for a small fee.
Fort Lauderdale International Airport — FLL'
Fort Lauderdale International Airport is 25-40 minutes from Miami territory, depending on the traffic and has almost no international route. It offers only a small variety. In any case, it is small and less busy than the MIA, making customs, immigration and security a little easier. Southwest Airlines, JetBlue and other low-cost companies usually use FLL instead of MIA, also making FLL a cheap alternative in many cases.
Public transport is available in both MIA and FLL. If you get to FLL, there's a free transport to the nearest Tri-Rail station. Tri-Rail is a transport system that connects West Palm Beach, Boca Raton, Fort Lauderdale and Miami.
In MIA, though, there is a free transport to the nearest station of Tri-Rail, Metrorail and Metromove. Depending on your destination (if you want to go to Miami regions that do not have Metrorail Stations) your best option is to take a taxi or rent a car. MIA's car rental facilities are spread around the airport and connected to the bus terminal. FLL's car rental facilities are more conveniently located in the parking lots next to the terminals.
At the moment in MIA, the Miami's Grand Central Station is being built, with connections from Amtrak (US Federal Railway Company), Metrorail, Tri-Rail, taxis, bus, Metrobus and all car rental facilities. The construction of this center is scheduled to be completed by 2009/2010.
By train
The Amtrak Silver Service operates trains daily to Miami from New York, Washington D.C., and other cities along the east coast. The New York trip lasts around 24 hours but is often delayed, as Amtrak uses the worst-quality southern Washington lines and must face slow freight trains along the way.
Tri-Rails are frequent (at least 1 per hour) every day from Miami to West Palm Beach, Boca Raton and Fort Lauderdale.
By car
There are three main roads that connect to Miami. The I-95 goes along the Atlantic coast of the United States and ends in Miami. The I-75 comes from the Midwest of the United States, passing through Atlanta and Tampa before finishing in Miami. Florida's Turnpike is a biked road mainly used to drive from Orlando to Miami. The only road in southern Miami is US Highway 1, which passes through Florida Keys all the way to Key West.
Circular
By bus
Miami has a large and elaborate public bus system that covers the entire city and connects to the Fort Lauderdale bus system. Recent growth has made the bus system more reliable than in the past. Even with the changes and because of local traffic, buses tend to take a long time off their schedule. Either way, the buses walk long enough on each street like this, avoiding inconvenience. Timetables and routes are available on the Miami-Dade Transit website [1] or at +1 305 770-3131.
De Metrorail
Metrorail is a system of a single rail covering Miami and surrounding areas and passing through 36km (22.4 Miles) with 22 stations. Due to the low budget, Metrorail has not been much expanded since its inauguration in 1984, but it attends to several areas of interest to tourists. This includes the center of Miami, the Dadeland Mall, Biscay Museum and Gardens, Lowe Art Museum, Miami Science Museum and other nearby shopping areas. The regions of Coconut Grove and the center of Coral Gables can be reached by means of a free bus that can be found at several stations. Metrorail runs from approximately 5:00 to midnight, with a bus serving all the Metrorail stations operating at night, effectively providing 24 hours of service. The price is 2$ per trip (1$ for underprivileged or under medical care) a monthly pass is available for $100.
A new expansion of Metrorail, the "Orange Line" was presented for a value of $4.3 billion financed by the "federal incentive package" and should then be ready in 2012-2014. The new line will more than double the length of Metrorail (adding 39.2km/24.4 miles), connecting with Miami International Airport, Dolphins Stadium, the International University of Florida and the suburb of Miami Gardens and Opa-locka, and creating the Miami Intermodal Center as the focus of the entire transit area in Miami.
From Move
The center of Miami has a high public transport system called Metromove, which connects to the Metrorail at the Government Center stations in the Miami shopping center and the Brickell Station in Brickell. Metromove is free and is the most efficient way to move through the center of Miami. It's a good form of rest for people walking around the center and also a great option for taking pictures of the skyscrapers and the Miami's rising horizon. At present, an investment has expanded the Metrorail system, including a connection to Miami International Airport to be operating in 2010. Besides the expansion north in the direction of Dolphin Stadium (home of the Miami Dolphins Hockey team), which is programmed to work in 2012. A light rail system for Miami Beach is also under development, as is the Miami Streetcar connecting the Miami Center to the Media and Entertainment Center and also the central part of Miami.
By taxi
Taxis are usually expensive at a cost of $2.50 on boarding and an additional $0.40 for every 250 meters walked (or 1/6 mile). Almost all the Taxi companies in the region have pre-determined prices to travel within the islands of Miami Beach and other popular beaches or Nightclubs communities with tourists that can reach a value of $30 to $60 depending on the destination. For example, South Beach may be the most expensive option, while a residential district in Miami Beach may be cheaper. The price is the same without taking into account the place of loading on the main island. All taxis are equipped with maps of the coastal islands from which prices are determined according to location. The same applies to passengers leaving the main island on the coast, but in any case normal charges are levied on taxi passengers going to the coastal islands or the main island.
The services are available throughout Miami-Dade, Broward, Palm Beach and Monroe, regardless of the place of embarkation. The normal service rates apply to these four districts, but it's a smarter way to look for a predetermined price in advance if you're leaving districts like these, which often becomes cheap and more drivers are available for negotiation when leaving these districts. If you want to use a taxi for a location outside these four districts, you must negotiate a value and warn the taxi company first. Taxi drivers may refuse to leave the metropolitan area if they are not notified in advance. You often have to call a taxi company and ask a taxi to pick you up. Taxis operated by most companies are normally not allowed to pick up passengers at random locations for legal and safety reasons except in the MIA, Miami Port and train stations. Anyway, some taxi drivers don't follow this rule. You can also try to ask for a taxi that's passing through the street. All taxi drivers must have a valid license to drive. It's unusual to hear about crimes involving unlicensed taxi drivers anywhere in the metropolitan region since Dade County monitors the path of all taxis within and around Miami and cooperates with other municipalities by passing on information. If you enter a taxi and do not see a valid license positioned in front of the passenger seat, you should not enter the taxi and call another taxi company no matter what the taxi driver says. If you still get into a taxi without a license or with an expired license and there's an accident or incident, you may not be able to hold the taxi driver accountable for what happened before the law. When you enter a taxi, you should take note of the taxi driver's name, license number and taxi number in case any problems occur during the trip. The information should be easily found inside the taxi. This will help identify the taxi driver for the police or the taxi company.
By car
Unless you plan to stay in downtown Miami or somewhere else, you'll find that a car is very convenient in Miami and rent is cheap compared to the big cities of the United States.
You can find outside the Miami Airport terminal car rental like E-Z Rent-a-car and Ace Rent-a-Car. Most car rental companies that are inside the terminal are often more expensive to provide the same services and the same cars.
Driving in Miami is usually easy. The streets are called a block system, where most of them are numbered based on the distance from the city center. The two main avenues that form an axis are Miami Avenue (going from north to south) and Flager Street (going from east to west). These two cross in the center of Miami, the symbolic center of the city. All the avenues are running from north to south and all the streets follow from east to west. For example, the address "9500 NW 30th Street" would be the cross of NW 30th Street (west of Miami Avenue and 30 blocks north of Flager Street) and NW 95th Avenue (north of Flager Street and 95 blocks west of Miami Avenue). Most streets follow this nomenclature, but because of the more than 30 municipalities within Miami-Dade County, there are some exceptions that should be considered. Examples include Coral Gables, the part of the Coconut Grove of Miami, Miami Lakes and Hialeah, are particularly famous and use their own system different from the rest of the districts. For example, NW 103rd Street can also be marked as E 49th Street or W 49th Street on Hialeah. Notice that if you pass through Boward County, the streets will be numbered based on your distance from the center of Fort Lauderdale, which is basically the same going from east to west, but it will be very different going from north to south. Most of the municipalities in the Boward County region use their own nomenclature system. Some street names also change as the region changes. Coastal avenue, A1A, is known as Collins Avenue in Miami, but it becomes Ocean Drive on Boward. Also, Red Road in Miami becomes Flamingo Road in Broward.
Miami has four expressed paths. In addition to I-95 and Florida's Turnpike, there is also the 836 state highway (also known as Dolphin Expressway) and the 826 state highway (also known as Palmetto Expressway). The Dolphin Expressway goes from the west to the center of Miami parallel to Miami International Airport. Palmetto Expressway and Florida's Turnpike are curving in "F" along the city. Turnpike continues north parallel to I-95 and will take you to Orlando if you keep driving. I-95, the Palmetto and Turnpike cross into a joint in North Miami called Golden Glades. You may find driving in the Glades a challenge, especially if you have a little driving experience in this region.
New visitors from Miami should be alert to areas where drivers are particularly aggressive. AutoVantage.com has been analyzing the aggressiveness in traffic and taxing Miami drivers as the most violent for the third year in a row. This should not discourage anyone from using the highways, but a passive approach to the direction of Miami could save you from confusion with other drivers or even an accident. The speed limits set are ignored by most drivers, especially on long roads with low limits. Two examples are the I-95 and the State highways 826 (Palmetto Expressway). The eastern part of the State highway 836 (Doplhin Expressway) between Miami International Airport and the center of Miami carries traffic exceeding its capacity and contains several left hand exits including the eastern ramp to Lejuene Road (NW 42nd Avenue) which is the designated and fastest route to Miami International Airport.
Of Boat
In the city of Miami and Miami beach, it is used by those who have the greatest purchasing power of the yacht, whether private or rentable.
See
Ancient Spanish Monastery 16711 West Dixie Highway (next to "Sunny Isles"), +1 305 945-1461 [2]. Works from Monday to Saturday 9:00 AM to 5:00 PM and from 1:00 PM to 5:00 PM (Except for scheduled marriages; Call in advance or check the website for weddings). Originally built in Segovia, Spain in 1141, this monastery was meant to be part of the property of William Randolph Hearst in California. Because it ran out of money and the United States did not allow a monastery to be built in California, the monastery stayed in the port of New York until 1954, when two businessmen bought the piece, putting it in Miami. Parts of the monastery were not joined together because the government removed the pieces from the numbered boxes and then put the wrong pieces in the wrong boxes. Today, the monastery is a church as well as a popular marriages place. As seen in the Weird U.S. History Channel program, the entry for adults is $5, for seniors and students with valid voucher the value is $2.50, and children the price is $2.
Holocaust Memorial, center of Meridian Drive with Dade Boulevard, +1 305 538-1663 [3]. It works every day from 9:00 to 9:00. This memorial was created with the help of the Holocaust survivors of Miami Beach and sculptor Kenneth Treister in 1984 and was finally opened to the public in 1990. The most remarkable thing about this memorial is its great arm with Holocaust victims tried to climb the arm that also has an Auschwitz tattoo similar to that circulating through Auschwitz and also brings a dedication to the "Jews Victim to the Holocaust" right outside its swimming pool and brings sculptures of a mother and child dying surrounded by Anne Frank's quotes. Behind the large arm lies the Meditation Garden, dedicated to life and the history of the Holocaust carved with some mistakes covered in granite. Around the arm there's a lit tunnel with an eternal flame. The tunnel has the names of the concentration camps carved inside and this leads to more sculptures that surround the arm with the name of the Holocaust victims carved in the granite and items like Sails of Jews placed by visitors honoring the memory of the dead. The entrance is frank.
Coral Castle, 28655 South Dixie Highway, +1 305 248-6345 [4]. A strange complex of stone structures built with enormous super heavy stones and supposedly by only one man, without the help of modern equipment.
Jewish Museum of Florida, 301 Washington Ave, +1 305 672-5044 (fax: +1 305 672 5933[5]. It works from Tuesday at 10:00 a.m. to 5:00 p.m. Closed on Monday and on Jewish and civil holidays. This museum, located in a 1936 synagogue that housed the first Jewish congregation in Miami, has a permanent script detailing how the Jews arrived in Florida and also their history in Florida and their customs. The museum also has videos to watch while you're inside the museum, temporary scriptures in the center of the synagogue and a souvenirs store. A small and clearly uninteresting museum. Adult entry costs $6, seniors and students cost $5, entry to families costs $12, children under 6 and members of the Florida Jewish Museum come in for free. The entrance is frank on Saturdays.
Frost Art Museum, SW 107th Ave & SW 8th St (FIU - University), +1 305 348-2890 [6]. Opened on Monday, Tuesday, Thursday and Friday 10:00 a.m. to 5:00 p.m., Wednesday 10:00 a.m. to 21:00 p.m. and Weekends 12:00 p.m. to 4:00 p.m. Located at the International University of Florida, the Frozen Art Museum has a variety of American photographs from the 60s and 70s, pre-Columbian artifacts from around 200 to 500 years of DC, Asian and African bronze pieces, and an increasing number of Caribbean and Latin American paintings and crafts.
Bass Museum of Art, 212 Park Ave, +1 305 673-7530 (fax +1 305 673 7062)[7]. Opened Tuesday, Wednesday, Friday and Saturday 10:00 a.m. to 5:00 p.m., Thursday 10:00 a.m. to 9:00 p.m. This Art Museum, expanded by the Japanese architect Arata Isolaki, houses several European works of art from the 15th century to the 20th century. The works of the Baroque and Northern European arts are the main attractions of the Bass Museum collection. The Bass Museum houses tourist exhibitions Workshops and a computer lab that allows visitors to create their own artwork. Adult entry costs $12, students and the elderly $10, children under 6 go in for free. Entry is free on the second Thursday of every month from 6:00 to 9:00 p.m.
Wolfsonian-International University of Florida, 1001 Washington Ave, +1 305 531-1001 (fax: +1 305 531-2133, e-mail: [email protected], +1 305 535-2622 [8]. Opened Monday, Tuesday, Friday and Saturday 11:00 AM - 6:00 PM, Thursday 11:00 AM - 9:00 PM and Sunday 12:00 AM - 5:00 PM. In the 1930s and 1940s, this building was the headquarters of the Washington Warehouse Company, a place where the rich could store their valuable stuff whenever they left town. Mitchell Wolfson Jr., the heir of Miami's cinema and native kept so many works of art there that he decided to compare the storage company and then gave the building to the International University of Florida, so the strange name of the museum. The "Wolfsonian" hosts a large Collection of Modern Art on its first three floors (the only floors except the first floors that are open to the public) that include advertising posters, postcards and Artistic Decoration of domestic arrangements and also tourist exhibitions. There's also a coffee shop, a book store, a source and a modernist work on the first floor. After paying for the entry, the customers come in with a sticker that has an image of an artifact from the museum's permanent collection. The ticket costs $5 for adults and the elderly, students with ID, and children aged 6-12, the value is $3.50.
Lowe Art Museum, 1301 Stanfor Dr., +1 305 284-3535 [9]. With several ancient artifacts, ceramics, clay works and sculptures that include works from the Greco-Roman times, renaissance, baroque, Asian art, Latin America and ancient jars, the Lowe Art Museum offers a large number of works over the centuries.
Venetian Pool (Piscina de Venice), 2701 DeSoto Blvd (in Coral Gables), +1 305 460-5306 (email: [email protected], additional phone +1 305 460-5357)[10]. Open from 11:00 to 17:00 every day, but if possible call to check operating hours. In the 1920s, Denman Dink turned this limestone quarry into a swimming pool with a waterfall, a children's area and an adult area. The water in this swimming pool comes from a spring and is drained daily. In addition to the swimming facility, there's a cafeteria (you can't bring food from outside of the Ventian Pool) and the marshes. Swimming classes are also offered. Ventian Pool is best known because Esther Williams and Johnny Weissmuller (the first Tarzan of the cinemas) swam here. The entry costs $6 for people aged 13 or over, $3 for children under 13 (between November and March); $9 for people aged 13 and over, $5 for children under 13 (between April and October).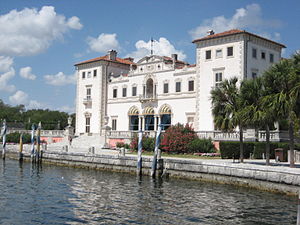 Biscay Museum and Gardens, 3251 South Miami Ave, +1 305 250-9133 (fax: + 1 305 285-2004)[11]. European-style property. It includes a main house full of pieces of art and furniture and 10 acres (approximately 40,400 square meters) of gardens in Biscayne Bay. The entry costs $12 for adults, $9 for Miami-Dade residents with ID, wheelchair customers, senior citizens over 62 years with ID and students with ID and $5 for children 6-12 years old. The entrance is frank for children 5 years old or less.
Bayfront Park, 301 Biscayne Blvd (in central Miami). This park has two amphitheaters (one large and one smaller) and receives live presentations. This park also has memorials for the astronauts who died in the crash in the Challenger spacecraft, for President John F. Kennedy (Friendship JFK torch), and a source dedicated to Claude Pepper, an illustrious U.S. congressman.
Oleta River State Recreation Park, 3400 N.E.C. 163rd St, + 1 305 919-1846[12]. It works every day from 8 a.m. until sunset. It's Florida's largest urban park and it has bike lanes, a swimming beach, picnic areas and playgrounds for children. There it is possible to take a canoe or a kayak to row to an island of mangrove swamps inside the park. Several animals like eagles and snails make the park their home. Fourteen air-conditioned cabins are present in the area, but bathrooms, showers and churches are located outside the hut and visitors must bring their own table articles (towel, plates, cutlery, etc.). The ticket costs $5 for vehicles with a maximum of 8 people and $1 for cyclists, pedestrians and extra passengers (the cabin rent costs $50.85 per night).
Miami Metro-Zoo, 12400 SW 152nd St Miami, tel (305) 251-0400. Opened every day from 9:30AM to 5:30PM. It's the largest and oldest zoo in Florida. The site houses about 1,200 wild animals and is an outdoor zoologist. The climate here allows the zoo to house a wide variety of animals from Asia, Australia and Africa like no other zoo in the country.
Jungle Island, 1111 Jungle Island Trail, Miami, tel +1 305 258-6453. An exuberant tropical garden that features presentations with animals and other exhibitions. It's a great tour for the whole family to enjoy.
Miami Seaquarium - (Miami Marine), 4400 Rickenbauer Causeway Miami, tel +1 305 361-5705. An oceanarium of 35 acres (about 141,600 square meters) that has a wide variety of aquatic animals and exhibitions. The estimated time of stay in the large aquarium is 2 to 3 hours.
Do
Miami Port[13] - Take a relaxing walk in various places.
GoCar GPS Tours, 1661 James Ave (Lincoln Road cross between Collins and Washington in South Beach) [14]. Meet Miami in the world's first storyteller car. GoCar will take you where visitors never arrive, telling stories and stories about the ways that brought life to the city. It's like having your own private guide with you. The tour takes place at its own pace on a fun, open-air drive in a two-person scooter car. The price is $29 an hour, but is also available daily with discounts.
Lummus Park Beach is a beach where you'll probably see photographic sessions and film teams in a few days. Located between 6th and 14th streets along Ocean Drive, it opens from 5AM to 12AM daily. Topless is allowed here. A mostly homosexual audience usually takes sunbaths on 12th Street. Also close is a wavy path of concrete known as "Promenade," a popular photo session site and also a favorite of the natives for volleyball players. The toilets, located near 11th Street, stay in a wonderful boat shape construction, but the pieces are rusty and dirty.
Haulover Beach Park, Ensolaradas Islands, north of Bal Harbor is just another beautiful area of Miami for surf and windsurf. Nudism is allowed in this area.
Dolphin Stadium, 2269 Northwest 199th St (Miami Gardens), +1 305 623-6100 (fax: +1 305 625-6403, e-mail: [email protected], TTY +1 305 623-6266 ) [15]. This football stadium has been renamed several times in its history. Some of its previous names include Dolphins Stadium and Pro Player Stadium. He was first known as a home of the NFL's Miami Dolphins. Ironically, the FedEx Orange Bowl games are played here instead of on the Orange Bowl on 11th Street. At another turn of fate, the Miami Hurricanes started fighting their home games here from 2008, instead of the Orange Bowl. MLB's Florida Marlins also plays baseball here. For tours at Dolphin Stadium, contact [email protected] or call +1 305 623-6286. The tour price is $3 for children under 14, $5 for 14 and $4 for the elderly. Check the site for other phone numbers to buy tickets for Miami Dolphins and Florida Marlins games and also the Orange Bowl.
American Airlines Arena, 601 Biscayne Blvd (near Bicentennial Park), + 1 786 777-1000 (battery: +1 786 777-1250 [16]. In addition to the Miami Heat games (an NBA team) being played here, this arena has already received several award shows in the past such as the MTV Video Music Awards (twice). Several shows are held here as well. Call the ticket office for more information.
Miami Yacht Charters & Rentals, 1250 S Miami Ave Suite 1408 Miami, + 1 305 358-0745 [17]. Yachts chartered and rented Miami boats. A wide selection of yachts to choose from 35 feet (about 10 meters) to 150 feet (about 45 meters). Freight of half-daily, full daily and multiple daily. Great way to feel Miami and meet. Call yacht pricing and availability information.
Events
Events happen all over the city in the July and August period because of the high temperatures during the summer of Miami.
FedEx Orange Bowl Football Game, Dolphin Stadium, +1 305 341-4700 [18]. Carried out at the beginning of January next to the New Year. The Bowl championship series (BCS) football matches are performed ironically at Dolphin Stadium. The best teams of two conferences, one of the conferences being the Atlantic Coast Conference (ACC)/Atlantic Coast Conference, are fighting for this prize.
South Beach Wine & Food Festival - South Beach Wine and Food Festival, carried out in several places along South Beach, (e-mail: [email protected]) [19]. Carried out at the beginning of February, this festival is sponsored by the Food & Wine magazine and the Food Network. The event raises money for the hospitality program of the International University of Florida, with well-known cooks and chefs (many of them who have already worked or appeared on the Food Network) coming to South Beach for cooking shows and for holding parties. Students at the International University of Florida are volunteers from the hospitality program at some festival events. Wine and food tastes with local cooks and cooking are also held during this annual event. Tickets range from $15 to $300 depending on the event.
Winter Party - Winter Festival, held in several places along South Beach, +1 305 571-1924 (speak to Michael Bath) [20]. Held between the middle of February and the middle of March, this evening party benefits several gay organizations along Dade County, such as the National Gay and the Lesbian Task Force. Beach parties, swimming pool parties, local club parties and dinners are the main attractions of the Winter Festival.
Winter Music Conference - Winter Music Conference, held in various locations along South Beach, +1 954 563-4444 (fax +1 954 563-1599) [21]. Held in the middle of March, the Winter Music Conference attracts a gay audience for a good cause, the conference attracts musicians (and the recorders they belong to as well) and DJs as well as fans of various kinds of electronic music and music lovers. In addition to several parties held in clubs, parks and Lummus Beach (and occasionally in retail shops and hotels), seminars are taking place to teach more about the music market and DJ exhibitions. Don't confuse the Winter Music Conference with the Winter Festival!
Independence Day, held throughout the city on July 4. Miami's horizon is illuminated by fireworks on America's "birthday." While Key Biscayne has a great view of the fireworks show, Bayfront Park has live music as well as a laser show.
White Party, takes place in several places along South Beach, +1 305 667-9296 [22] and [23]. The White Party is held in the middle of November. This is the oldest gay festival in Miami and it raises funds for charity (The Care Resource) the largest and oldest HIV/AIDS association in South Florida. The festival lasts for 10 days. It is not as popular as the winter party festival (Winter Party) held earlier this year, but the White Party continues to sell tickets approximately one year in advance.
King Mango Strut, Main Avenue and Grand Avenue at Coconut Grove, +1 305 401-1171 [24]. Carried out after Christmas, this stop started as a parody of the current events as well as the Orange Bowl Parade. The Orange Bowl Parade, unlike its famous correspondent Rose Bowl, is no longer performed, but King Mango Strut continues to provide fun with the bullshit of previous years.
Activities
Learning
Barry University, 11300 North East Second Ave. (in Miami Shores), +1 305 899-3100 (e-mail [email protected], fax +1 305 899-2971) [25] - This Catholic university, located about 32 km (20 miles) outside Miami, has courses like biometers dicine and forensic photography, as well as popular nursing, education and liberal arts courses. The university co-educates about 10,000 students enrolled.
Florida International University - Florida International University, University Park, +1 305 348-2863 (e-mail [email protected], fax +1 305 348-3648) [26]. With more than 40,000 students enrolled in this public university divided into two campus, the International University of Florida is one of Florida's largest universities and at 11 degrees — the largest in the U.S., with more than 280 courses in 26 schools including high-level schools such as Business School, Architecture School, Engineering School, Law School and Medical School, it is one of the best universities in the world Florida.
Florida Memorial University - Florida Memorial University, 15800 Northwest 42nd Ave., +1 800 822-1362 (fax +1 305 625-4141) [27] - A vast body of Afro-students American can be found on the campus of this Batista college (formally known as the Florida Memorial School). The university has more than 1,950 students and courses such as business administration, business management, basic education and criminal justice.
Johnson & Wales University—North Miami Campus, 1701 Northeast 127th St. (in North Miami), +1 305 892-7600 (e-mail [email protected], fax +1 305 892-7020) [28] - One of the various campus of Johnson & Wales' around the country, this private university offers a degree in cooking and confecture business and hospitality. This campus is one of Johnson & Wales's largest campus after the original school in Providence, Rhode Island, with 2,500 enrolled students.
New World School of Arts, 300 Northeast 2nd Second Ave. (in the center of Miami), +1 305 237-3135 [29]. It offers from conservatory education to high school and also higher education than talented. It is highly rigorous in the selection for the admission of students and also in their education. "New World" burgers have had successful careers in Hollywood, Broadway, and other prestigious locations around the world. In addition, many of today's greatest talents in commercial arts, advertising, public relations and architecture have started their creative career in this high-level school. It offers theater programs, visual arts, dance and music to high school and university, with joint degrees offered between the public schools of Miami-Dade, the Community College of Miami-Dade and the University of Florida.
St. Thomas University,16400 32nd Ave., +1 305 628-6546 (e-mail [email protected], fax +1 305 628-6591) [30] - This private university, affiliated to the Roman Catholic Church It has over 2,600 students and students. Business/Administration, Education and Communication are your most popular courses.
University of Miami, Coral Gables, +1 305 284-4323 (e-mail [email protected], fax +1 305 284-2507) [31] - More than 16,000 students are enrolled in this private school. Business, communication, medicine and biology are their most popular courses.
Miami-Dade College, [32] - With more than 165,000 students, is the largest higher education institution in the U.S. and one of the best community university systems in the country. This community university has units in Hialeah, Homestead, Kendall, Miami and North Miami Center and also units around Miami.
Work
If you're not from the U.S., you'll need a work visa. If you try to work with a tourist visa, you will be considered an illegal immigrant in the U.S. Immigration and Nationalization services have led frequent checks of illegal immigrants in Miami's business since Miami received numerous refugees from Cuba, Haiti and other nearby countries. If you don't have the right visa, you probably won't get a job in Miami.
There's an exception to working without a visa in Miami anyway. As long as cruises and yachts sail in international waters, their companies can freely hire anyone for such services.
Buy
Remember, the shopping rate in Miami is 7%.
Everyone knows that America is the paradise of consumption. Over there, the temples are supermarkets, shopping centers, large department stores and the countless stores specialized in all kinds of items, with at least one malal in each block where the trade and services of the most varied are brought together.
Currently, Miami is the destination most sought after by the upper middle class Brazilians who go to the United States, the main shopping centers are Aventura, which is very refined, with shopkeepers and in the central region of Miami and the more peripheral Sawgrass in Fort Lauderdale, which is the largest shopping center in Florida.
For household appliances, search for Brandsmart, a store chain that sells the most popular items, the most popular ones and where the best offers are. The service is always terrible and it's good to go there already knowing what you want.
For electronics, such as cameras and software, search Circuit City and Best Buy, specialized store networks with reasonable care and some promotional offers.
The most popular supermarket networks are Publix and Winn Dixie, well-organized networks with food products of all origins and of the best quality.
As for large department stores, there are several shops in the Miami area in the Walmart chain, Target, Kmart and other less famous networks. Walmart is the art paradise of brega and boasts of being the world's largest selling center for nylon socks, samba-song panties and penguins from a pile fridge. The Target network is more refined and sells everything Walmart sells with a better presentation and a higher price. The shops are always huge and it's good to walk inside them!
Business Centers
Collins-Avenue between 15th and 3rd St., Collins Avenue has stores to satisfy all sorts of tastes and budgets.
Lincoln Road also in South Beach, Lincoln Road offers several shops and restaurants, luxurious coffee shops and high-class dinners. There is a farmers' fair every Sunday, as well as an antique fair (days vary).
Clothes Stores
These are just a handful of clothes stores located "far away" from Miami's main shopping centers.
Guess, 736 Collins Ave., +1 305 673-8880 - National retailer specializing in male and female clothes and accessories. Two-story building.
Nicole Miller, 656 Collins Ave., +1 305 535-2200 - Women's clothes and accessories.
United Colors of Benetton, 668 Collins Ave., +1 305 538-3777 - Women's footwear, clothing and accessories.
Kenneth Cole, 190 8th St., +1 305 673-5151 - Open Fri-Sat 10AM-9PM, Thu 10AM-9PM, Sun 12PM-8PM. Men's and women's clothes and accessories. Two-story building with a minimalist footprint.
Barney's New York Co-op, 832 Collins Ave., +1 305 421-2010 (email [email protected], fax +1 305 421-2006) - Opened Monday to Thursday 11AM to 9PM, Friday to Saturday 11AM-10PM, Domingos of 12PM-7PM. Men's and women's clothing as of the Japanese brand "Bathing Ape". Supposedly more comfortable than an ordinary "Barney's Ney York, but with a little overpricing.
Diesel Jeans, 801 Washington Avenue, +1 305 535-9695. Italian retailer specializing in male and female jeans. Sometimes it hosts some events such as the display of the Ghostly and Spectral Sound electronic brands at the 2007 Winter Music Conference.
La Casa de las Guayaberas, 5840 Southwest 8th St. (in Little Havana), +1 305 266-9683 - A store where you can find guayaberas (a Cuban shirt that has buttons but with a loose fit and nails) for men and women. Ronald Regan came to this store personally to buy a guayabera. Shirts can be purchased on time or they can be ordered with their measurements.
Cosmetic
Sephora, 721 Collins Avenue, +1 305 532-0494 [33]. Opened Monday-Thursday 10AM-10PM, Friday and Saturday 10AM-11PM, Sunday 11AM-8PM. A network of shops spread all over the country specializing in makeup. There are also some branches of Sephora at the Dadeland Mall.
M*A*C, 650 Collins Ave., +1 305 604-9040 - Small post of this international cosmetics line. There are also subsidiaries of M*A*C in the Aventura Mall.
Disk Stores
FYE #1783, 501 Collins Ave., +1 305 534-3667 - Previously called Specs Music, this double-story store specializes in journals by leading media artists.
Uncle Sam's Music, 1141 Washington Ave [34]. Since 1984, this independent disk store has had electronic music as well as items like stickers and incense.
Shopping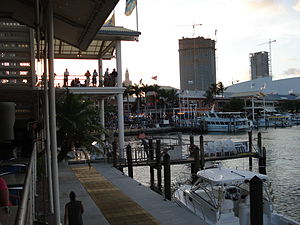 Aventura Mall, 19501 Biscayne Blvd. (near the Dade/Broward County line), +1 305 935-1110 [35] - Saturday 10AM-9:30PM, Domingos 12PM-8PM. This shopping mall, at 213,000 square meters, not only has national shops like JCPenney and Macy's, but it also has stores like Abercrombie and Fitch and also Rainbow Valley Playground, a place for children to play. Another point of reference for this mall is its cinema with 24 projection rooms.
Bal Harbor Shops, 9700 Collins Ave (on 97th Street in Bal Harbor), +1 305 866-0311 [36] - Monday 10AM-9PM, Sunday 12PM-6PM (Neiman Marcus and Saks Fifth Avenue opens at 12PM-7PM). Several design brands fill the spaces of the Bal Harbor Shops, including Chanel, Cartier, Fendi and Gucci among others. For those not rich enough to buy those brands, Bal Harbor Shops also owns Banana Republic and Gap. $1 (parking price).
Bayside Marketplace, 401 Biscayne Blvd (near Bayfront Park), +1 305 577-3344 [37] - Monday-Friday 10AM-10PM, Saturday 10AM-11PM, Sunday 11AM-9PM. Despite having several networks like Hard Rock Cafe, Gap, Sketchers and Victoria's Secret, this mall is known for its wonderful view of Biscayne Bay. The only negative aspect is that traffic is bad in Bayside when there's a show going on near Bayfront Park. Connected to the public transport via Metrorail and Metromove.
CocoWalk, 3015 Grand Ave (at Coconut Grove), +1 305 577-3344 [38]. Thursday 11AM-10PM, Friday 11AM-12AM (shops), restaurants and bars open until 2AM. This open-air shopping mall not only has a beautiful Mediterranean-style architecture, but it also has networks like Victoria's Secret and FYE Music.
Dadeland Mall, 7535 North Kendall Dr. (at Kendall), +1 305 665-6226 [39]. Monday Saturday 10AM-9:30PM, Sunday 12PM-7PM. Dadeland is one of the first shopping centers in the United States. Macy's and Saks Fifth Avenue are a few stores now represented in Dadeland.
Dolphin Mall, 11401 Northwest 12th St, +1 305 365-7446 [40] - Monday Friday 10AM-9:30PM, Saturday 10AM-9:30PM, Sunday 11AM-7PM. In addition to "Off 5th" (an outlet at Saks Fifth Avenue), Marshall's HomeGoods and Burlington Coat Factory, this shopping mall has a cinema and several restaurants.
The Falls, 8888 Howard Dr. (in Kendall), +1 305 255-4570 [41] - Saturday 10AM-9:30 PM, Sunday 12PM-7PM. Stores including Brooks Brothers and Pottery Barn decorate this mall with tropical cascades.
Lincoln Road Mall, Lincoln Rd between Alton Rd and Washington Ave [42] - This open-air mall for pedestrians was designed in 1957 by the legendary architect of Miami, Morris Lapidus. It includes restaurants and cafeterias ranging from Starbucks to Miami originals such as Pizza Rustica and David's Café. There's a place to sit outside the mall. It includes nationally known French Connection shops, Ann Taylor and Anthropologie, as well as international stores like Italy's Miss Sixty. There's also a multiplex cinema located on the corner of Lincoln Road with Alton Drive. Lincoln Road Mall also houses the farmers' fair on Sunday from 9am to 6PM and the antique fair on the second and fourth Sunday from 9am to 5PM. Call +1 305 673-4991 for information about the antique fair.
Shops at Sunset Place, 5701 Sunset Dr., +1 305 663-0482 [43] - Monday-Thursday 11AM-10PM, Friday Saturday 11AM-11PM, Domingos 11AM-9PM - Apart from stores national level like Gap, Urban Outfitters and Victoria's Secret, this mall has a Niketown store and a big movie theater.
Village of Merrick Park, 4425 Ponce de Leon Blvd (in Coral Gables), +1 305 529-0200 [44] - Monday 10AM-9PM, Sunday 12PM-6PM. The Village is Bal Harbor Shops' largest competitor. He looks a lot like Bal Harbor. This mall has mostly design stores like Jimmy Choo, Neiman Marcus and is home to Miami's first Nordstrom.
Miami International Mall, 1455 NW 107th Ave, +1 305 593-1775 [45] - Monday Saturday 10AM-9PM, Sunday 11AM-7PM. There are 120 stores including Macy's, Dillard's and JCPenney.
Eat
Taste and cooks usually remember Miami [46] for his only New World cuisine. Created in the 1990s, this alternative cuisine known as "New World," "Nuevo Latino" or "Florribean cuisine," mixes local products, Latin American cuisine and Caribbean cuisine and culinary techniques required in Europe. Nuevo Latino is said to be the invention of four chefs: Allen Susser, Norman Van Aken, Mark Militello and Douglas Rodriguez. They all continue to work in Miami and most of them work in their restaurants created in the 1990s. The New World cuisine is not restricted to the menu of these chefs. This cooking influences several restaurants around the city today.
Miami is known for his Latin cuisine, especially Cuban cuisine, but there are several other types of restaurants [47] that can be found along the city. In addition to local restaurants offering various cuisine outlets such as Chinese, Japanese, Central East and Italian (among other culinary), coffee shops, barbecues and restaurants operating in hotels as well as restaurant networks such as TGI Fridays and Ben & Jerry's.
Miami is known for his night homes [48] working as restaurants throughout the city. Most of these restaurants, like Tantra (which had one of its chefs recently at Top Chef): Miami - Reality show), BED, the Pearl Restaurant and Champagne Lounge (annexed to Nikki Beach), located along South Beach. Anyway, some of these restaurants/nightclubs like Grass Lounge can be found in the Design District (north of the city center south of North Miami).
If the prices of these Miami restaurants do not fit in your pocket every day, think about eating during the Miami Restaurant Month (also known as Miami Spice - "Miami Temperature" [49]) in August and September. Every year 80 restaurants picked, charge $22nd lunch and $35th dinner.
Like the commercial and cultural capital of the Americas, the Miami dining scenario reflects a developing diversity, mixing new exotic restaurants with long-standing institutions, often tempered by Latin influence and the warm Caribbean winds. The cuisine of the New World, a joint cuisine to accompany the Symphony of the New World of Miami (Miami's New World Symphony), provides a fusion of Latin, Asian and Caribbean flavors using fresh and planted ingredients in the region. Owners of innovative restaurants and chefs risk similarly with customers using seafood of Floribenhos flavors, also keeping Florida's good and old favorites.
Don't be fooled by the excessive number of super-thin models you'll probably see posing all over Miami. Contrary to what the people believe, dinner in this city is like being seen as a sport as well as skating on Ocean Drive. With over 6,000 restaurants to choose, dinner in Miami has become a great hobby for both the natives and visitors. His great chefs merged Californian and Asian elements with Caribbean and Latin elements to create a unique world-class taste: Floribene. Think of chutney sprinkled over fresh scabbardfish or a spicy sushi served next to a Peruvian ceviche.
Whatever you want, Miami has it — with the exception of decent Chinese food and a piece of New York-style pizza. If you want a steak, then South Beach is the place for you. Like many cities in Europe and Latin America, it's super-modern dinner late in South Beach, preferably after 9PM, sometimes after midnight. South Beach service is shamefully slow and arrogant, but it depends on the place (of course you can find restaurants that challenge notoriety and can really be proud of good service). On the main island — especially in Coral Gables, and recently in downtown and Brickell Avenue — you can feel at ease, having dinner creatively with no pretension whatsoever.
Brazilian Steakhouse Floor Fire, 836 1st St, Miami Beach tel. (305) 672-0011, [50]. American unit of the largest circulation in Brazil.
Grass Restaurant and Lounge, 28 NE 40th St, +1 305 573-3355 (fax +1 305 573-5003, e-mail: [email protected]) [51] - Saturday 7 PM-12AM, but check the website or contact the restaurant to check the times. Fusion. Although there is good food in this restaurant, this place is embarrassingly difficult to enter, unless you seem to be part of it. Yes, even with a reservation. $8-$28 per person per dish.
La Carreta, SW 8th St, +1 305 444-7501 [52] - Opened 24 hours. Cuban. This restaurant belongs to a small Cuban restaurant network (including a branch at Miami International Airport). It should be noted that most of its employees speak only English. $5-$22 per person per dish.
Baleen at Grove Isle Hotel & Spa, Four Grove Isle Dr., +1 305 858-8300 [53] - Beyond the restaurants of Miami, Baleen receives consistent approval from Zagat's, Gourmet and AAA. The menu is eclectic and eccentric, with fresh selections from the sea, land and garden. Opened for breakfast, lunch and dinner.
Chef Allen's, 1908 NE 29th Ave, +1 305 935-2900 [54]. Sunday Thursday of 6PM-10PM, Friday Saturday of 6PM-11PM. Allen Susser was named the best kitchen chief in the South in 1994 by the James Beard Foundation. A perfect place for New World cooking. The use of jackets is suggested. $9-$46 (the tasting menu costs $75 per person).
Casa Tua, 1700 James Ave, +1 305 673-1010 [55] - Monday Lunch at 11:30AM-3PM, Monday 7 PM-12AM dinner. Italian. Casa Tua is proud of the fact that there is no sign or signaling outside the restaurant. If the restaurant decides to put signage, that won't be too soon. Reservations are needed to get in, but first make sure the restaurant is located, or you'll get a headache when you go to dinner. $12-$100 per person per dish.
Ola, 5061 Biscayne Blvd (at the Sanctuary Hotel), +1 305 695-9125 [56] - Monday, 6PM-12AM, Friday, 6PM-2AM. Nuevo Latino Chef Douglas Rodriguez's restaurant, and it means Of Latin America, being a mixture of Spanish and Latin American cuisine. Reservations are recommended. $20-35 per person per dish.
Ortanique on the Mile , 278 Miracle Mile (next to Actor's Playhouse), +1 305 446-7710 - Monday of 6PM-10PM, Wednesday of 6PM-11PM, Sunday of 5:30PM-10 9:30 PM. New World. One of the three Ortanique restaurants (the other two are located in Washington, D.C., and Las Vegas. Food is a mixture of Caribbean and French influences. Reservations are required. $19-$36 per person per dish.
Beba
Night life in Miami consists of hotels/luxurious clubs, independent bars frequented by local natives (including sports bars) and night homes. Most hotels and independent bars give the other face to their physical appearance, but you have to dress well to impress (which does not mean dressing like a stripper) and enter the night house. Also remember never, under any circumstances, insulting the doorman and/or the night house staff who will guarantee your entry or you will end up sitting on the opposite side of the gallery screaming trying to enter. Trying to tip the doorman and say that you know some employee who works in the night house (unless you called and reserved a table or a place on the VIP list) will also be considered an affront. Going to the club is out of fashion or pushing the crowd (not the doorman) will also help you stay outside. Finally, most nightclubs won't admit groups of men unless they're waiting in front of a gay bar. Take some woman or leave your group if you're desperate to get in. And once you're in, remember that the cost of entering these clubs can cost more than $20 in cash (some clubs, anyway, out of kindness can have ATMs that can charge more than $7 to draw money). Popular drinks in Miami include Cuba Libre and Mojito.
Sleep
Miami is known for his hotels called "Boutique hotels" (especially those in South Beach). Architects like Ian Schrager (the Delano, Shore Club), André Balazs (Raleigh, Standard in Belle Isle) and Todd Oldham (the Hotel) helped to put South Beach on the map with their creative architectural projects for hotels. The disadvantage of many hotels of this kind is that the bedrooms can be small, particularly if the building was built during the period of Art Deco (architecture style, interior decoration and popular jewels between the 20s and the 30s that used geometric shapes and bold colors) in Miami. If you value space, a boutique hotel might not be the kind of hotel for you. If you don't have to stay in a hotel boutique (and value the space), Miami has several luxurious hotels with several floors from the north to the south of South Beach, as well as in the center region. Miami also owns its share of cheaper hotel networks for those who value space and/or money. The high season for hotels is around November to April because of low temperatures. Because the low temperatures in Miami, compared to most of the United States in that period, are still warm. The high season is also marked by the event of several events, such as the Winter Music Conference and the Spring Holidays. If you want to book a room during the high season in Miami, especially in a hotel boutique and/or a hotel in South Beach, you should book months in advance. Stay tuned for hotels that charge an extra 12.5% for the bedroom and some hotels that can still add 15% for services that may or may not be added to your booking by the hotel, an agency or travel agent (both personally or by sites similar to Expedia, Orbitz and Travelocity) or by "opaque" sites (prices are given, but the hotel and its location are unknown) such as Priceline or Hotwire. Some hotels offer garage or maneuvering; make sure your hotel offers parking before booking your room if you want to drive in Miami.
Keep in touch
Most of the area codes in Miami-Dade County are 305 and 786. Code 305 also applies to the Florida Keys region (Monroe County).
Internet
In addition to some of the locations listed in Coma and Miami International Airport, several hotels have access to the Internet via LAN or wireless (wireless network) — but not free in all hotels. Check with your hotel that Internet access is free or that any fee is charged.
Several coffee shops have access to the Internet via wireless networking, but depending on the coffee shop, access can include a fee. Unless it's an international network offering free Internet like Starbucks, check with your coffee shop to see if your internet access is charged with or separately from your meal.
It was said that wireless Internet access would be installed across Miami Beach and Miami-Dade, but nothing has been done about it so far.
Miami-Dade Public Library System, +1 305 535-4219 (Headquarters Number) [57] - Free Wi-Fi Internet (wireless) on all library systems.
Kafka's Cybercafe and Bookstore, 1464 Washington Ave, +1 305 673-9669 [58] - Opened daily at 8AM-12AM. Internet access for $6 an hour.
D'Vine Cyber Lounge, 910 Collins Ave, +1 305 534-1414 [59] - Local Internet connection $5, wireless $3 (without buying any food).
Security
Miami, it is often reported in newspapers as the center of crime and drug trafficking, but this is only relatively dangerous for tourists in certain areas. Overtown (near Liberty City) has the highest rate of violence in the city and is best avoided anyway. If you're in this neighborhood or any other high-crime area, take the same precautions as you would in any other dangerous neighborhood around the country. Some precautions are to target commercial areas, go to their destination as quickly as possible and avoid wearing glittering jewelry and carrying electronic devices. Remember the main rules of common sense how to avoid making noises at night and passing through areas of intense traffic at night and that applies to Miami as in any other urban area in the United States
Emergency numbers
The emergency call for fires, police and rescue is 911. If you want emergency assistance, don't call 911. To contact the police in a non-emergency situation, call +1 305 4POLICE.
Difficult Situations
Consulates
There are several consulates in the Miami region. This is just a short list of some. Check the U.S. Department of Foreign Consulting Offices website [60] for more consulates.
Australian Consulate 2223 Coral Way, +1 305519-8814 (fax +1 305 361-7021).
Brazilian Consulate General, 80 Southwest 8th Street, 26th Floor, +1 305 285-6200 (fax +1 305 285-6229).
British Consulate, 1001 Brickell Bay Drive, Suite 2800, + 1 305 374-1522 (fax +1 305 374-8196).
Canadian Consulate, 200 South Biscayne Boulevard, Suite 1600, +1 305 579-1600.
French Consulate, 1395 Brickell Avenue, Suite 1050, + 1 305 403-4150 (fax +1 305 403-4151).
German Consulate, 100 North Biscayne Boulevard, Suite 2200, +1 305 358-0290.
Israeli Consulate, 100 North Biscayne Boulevard, Suite 1800-1801, +1 305 358-8111 (fax +1 305 371-5034).
Consulate Italiano, 4000 Ponce De Leon Boulevard, Suite 590, +1 305 374-6322 (fax +1 305 374-7945).
Mexican Consulate, 5975 South West 72nd Street, Miami, FL 33143, +1 305 268-4900 (fax +1 786 268-4895).
Newspapers
Miami Herald, 1 Herald Place, +1 305 350-2111, [61]. The city's main newspaper is read throughout the city, state and in various places as university libraries all over the country.
El Nuevo Herald, 1 Herald Place, +1 305 350-2111, [62]. Spanish version of Herald.
South Florida Sun-Sentinel, 200 E. Las Olas Blvd., Fort Lauderdale, +1 954 356-4000, [63]. Newspaper about the southern Florida region (including Miami).
Miami New Times, 2800 Biscayne Boulevard, +1 305 576-8000 (fax +1 305 571-7677), [64]. An alternative weekly free newspaper, focusing on news less known as films and local events ranging from theatrical productions to the Winter Musical Conference.
Miami Today News, 710 Brickell Avenue, +1 305 358-2663, [65]. Miami business news.
Diário Las Americas, 2900 N.W. 39 Street, +1 305 633-3341 (fax +1 305 635-7668), [66]. Spanish newspaper with news focused on Latin America.
Biscayne Times , 9325 Park Drive, Suite C, [67]. News of communities in northern Miami and some communities in the city (i.e. Design District).
Miami Living Magazine, 1602 Alton Road, Suite 50, +1 305 538-4282 (fax +1 305 535-6531), [68]. A magazine that focuses on food and night life.
Home Miami, 445 North Andrews Avenue, Fort Lauderdale, +1 305 673-2112 (email [email protected], fax +1 305 673-2101), [69]. Sales and decoration.
Ocean Drive, 404 Washington Ave, Suite 650, +1 305 532-2544 (fax +1 305 532-4366), [70]. Fashion and events in South Beach.
Ocean Drive Español, 404 Washington Ave, Suite 650, +1 305 532-2544 (fax +1 305 532-4366), [71]. Spanish version of Ocean Drive.
Press Release 365, 11900 Biscayne Blvd., Suite 210, +1 305 292-6712(fax +1 305 292-1398), [72]. Miami news specializing in recent events and press release
Health
Diane
Go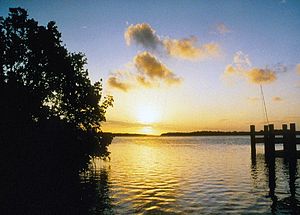 Miami Beach- Popular holiday destination just a few minutes from Miami.
Miami Port is the main cruise embarkation and disembarkation point.
Biscayne National Park — It's the largest marine park in the national park system.
Everglades National Park — Third largest national park in the United States, home to several animals native to Florida.
Raton-Rain-rich neighborhood in southern Florida.
Delray Beach- Beyond the beach, he has a scenario of interwoven night houses.
This article is usable. It contains information on how to get in and some complete indications from restaurants and hotels. A more courageous person could use it to travel, but please dive deep and help him grow up!